This time of year is expensive and expansive for me. Expensive for my wallet and expansive for my tummy. Im just sitting here going over a list of cookies I am thinking of baking for christmas and yowza.. I am going to be so fat and broke hahaaaa. While narrowing down the list, every so often I will take a bite of this "raspberry and chocolate mousse tower" I got from work. Its a crunchy chocolate biscuit with a layer of bubbly chocolate mousse and over that a layer of raspberry mousse, held together in a mesh of chocolate and dusted in edible gold flakes. Im making obscene noises. Its probably embarrassing the neighbors. Such a dessert of unparalleled elegance and I cant help but wonder if my poops will be flecked with gold...

Its crazy though, the stuff Im eating. Today I was good for breakfast because our cupboards are bare, so I just have grapefruit juice and a wee apple. When I got to work! I dropped apple strudel on the floor, so I ate it. Then I dropped a chocolate hazelnut cluster on the floor, so I ate that. Im like some perverse dessert anteater. The second it hits the floor Im hoovering it up without a second thought. Its gotten so bad that if anyone at all drops anything its automatically offered to me first. Im so damn classy, OUCH! For lunch I had cookies. 2 Danish Almond Horn cookies and 2 Pistachio Florentines. Florentines are my favourite holiday cookie. My Bapa worked selling pastry supplies and at Christmas would always have these plates of cookies for us, florentines were on it. They are very thin disks of toasted nuts held together in a sweet sticky mixture of honey and sugar and then the entire bottom half is dipped in chocolate.
Mmmm. So thin and chocolateyyyyyy.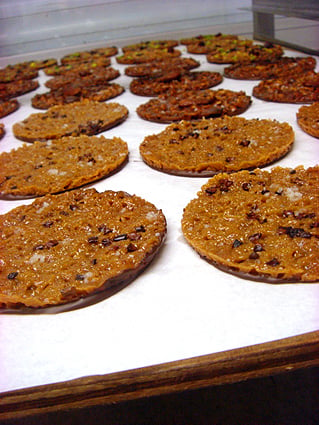 Anyway! And then for dinner
I just had this crazy mousse tower fuck me in the mouth and a square of uber dense devils food cake.

AND

Yesterday. For lunch I had cauliflower agnolotti in a caper cream sauce, a savoury cheesecake with strawberry compote, a potato latke, half a piece of miso glazed salmon steak and a very tart lemon tart. For like, $3. GAH. I love my work. I love my work. I love my work.

A girl who literally has a dozen bucks to her name until next paycheck should not be eating like the richest bitches in the city. Man O Man.

So, if any of you guys are ever feeling dodgy enough to come visit the east end, drop into cabbage town and Ill hook you up with the best butter croissant in the city. Maybe a bit of coffee. Maybe a cracked out transgendered hooker if you're hungry for that. Ill see what I can do. I will be the pimp of your sweetest desires, my darlies.



Just take the streetcar to the end of Carlton. Im always there.


Always.......


Sigh

OH ALSO! While Im on the subject of cookies, heres a recipe I found yesterday for Neiman Marcus's chocolate chip cookies. Now I havent tried this yet but I have read rave reviews on a few sites from people who have. Just thought you might be interested.



Neiman Marcus Chocolate Chip Cookie



Ingredients

1/2 cup (1 stick) butter, softened
1 cup light brown sugar
3 tablespoons granulated sugar
1 large egg
2 teaspoons vanilla extract
1-3/4 cups all purpose flour
1/2 teaspoon baking powder
1/2 teaspoon baking soda
1/2 teaspoon salt
1-1/2 teaspoons instant espresso coffee powder
1-1/2 cups semi-sweet chocolate chips

Directions

1. Preheat oven to 300 degrees. Cream the butter with the sugars using an electric mixer on medium speed until fluffy (approximately 30 seconds)

2. Beat in the egg and the vanilla extract for another 30 seconds.

3. In a mixing bowl, sift together the dry ingredients and beat into the butter mixture at low speed for about 15 seconds. Stir in the espresso coffee powder and chocolate chips.

4. Using a 1 ounce scoop or a 2 tablespoon measure, drop cookie dough onto a greased cookie sheet about 3 inches apart. Gently press down on the dough with the back of a spoon to spread out into a 2 inch circle. Bake for about 20 minutes or until nicely browned around the edges. Bake a little longer for a crispier cookie.

Yield: 2 dozen cookies