Cats and dogs are coming down

14th Street is gonna drown
Everyone else rushing 'round
I got Blonde on Blonde on my portable stereo

Hey ya, my pokey little puppies!

Mmmm This evening The Outside is cool and damp and flas
hing us hints of its spring. I've been standing over the stove smoking a joint, cooking some soup and listening to some Hip Young People music. Got my $2 fruit salad theme apron on. Done the soup now, and find myself suddenly and literally coo coo for cocoa puffs. Nestle Quick cereal with Chinese Soy Milk and bananas will suffice nicely. Things are viddy good.

By Christ I cant eat this fast enough.

I had a really most excellent weekend. Jordan stayed over for a couple of nights, and the days were filled with working and cooking and eating all kinds o
f crazy things. Thursday evening Jordan popped over while I was making lava cake muffins. Which were incredible. Maz, try these, they are fecking delicious and from Alton Brown so you know they's gonna be good eats. Take them out just as the tops start to set a
bit, but not while they are still extra wobbly. They came out like a little soft gooey chocolate hockey puck in the gut. Mmmmm. Even delicious cold the next day! I ate 6 of them! Hahaha! Im going to die very young!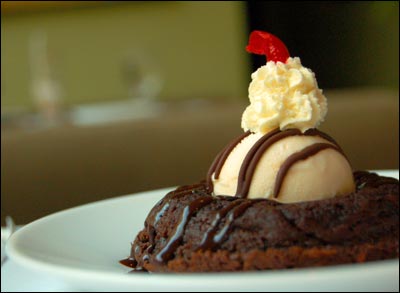 Chocolate Lava Muffins
Recipe courtesy Alton Brown
8 ounces semisweet chocolate chips

1 stick butter
1/2 teaspoon vanilla extract

1/2 cup sugar

3 tablespoons flour

1/4 teaspoon salt

4 eggs
Butter, to coat muffin tin

1 tablespoon cocoa powder
1 cup vanilla ice cream
1 teaspoon espresso powder
Preheat the oven to 375 degrees F.


Place a small metal bowl over a saucepan with simmering water. Melt the chocolate and butter in the bowl. Stir in vanilla.
In a large mixing bowl, combine sugar, flour and salt. Sift these into the chocolate and mix well with electric hand mixer.

Add eggs one at time, fully incorporating each egg before adding the next. Beat at high until batter is creamy and lightens in color, approximately 4 minutes. Chill mixture.


Coat the top and each cup of the muffin tin with butter. Dust with the cocoa powder and shake out excess. Spoon mixture into pan using a 4-ounce scoop or ladle. Bake for 10 to 11 minutes. Outsides should be cake-like and centers should be gooey.
While muffins are in oven, melt the ice cream in a small saucepan. Stir in the espresso powder. Serve over warm muffins.
Following that was a rather perilous bike ride to the bank for to get the rent. Jordan and Cory started on what Jordan described as Vegan Chinese Water Chestnut Cake Jello. I'm putting the recipe below, but you need some kinda strange stuff so I doubt you'll make it but it was very unique and refreshing and mostly Im putting it here so I can find it again later.

Chinese Water Chestnut Cake



1 package (16 oz) Rock Sugar
1 package (250 g) Water Chestnut Starch (sometimes called flour)
1 1/2 cup diced water ches
tnuts
2 litres water

In 1 litre of the water, boil the rock sugar until dissolved.

Add the chestnuts to the boiling pot. Meanwhile mix the rest of the water with starch very well. Add this very slowly to the water and stir over medium high heat until it is very thick and translucent. Pour into a shallow dish or a deeper dish for a bigger "slice" of cake later.

Eat or fry up in a nonstick pan with a small bit of oil.



We watched Orson Wells' F Is For Fake.

Jordan took pictures of us sleeping in bed at night with a polaroid camera. The one eyed kitten is a bed hog

A coworker whispered in my ear "The Ghost Always Know Who To Scare" and nodded at me knowingly.

What the fuck does that mean??? Its driving my batty.

My love of Bowie was reaffirmed. Also it looks like he has been reaffirmed several times himself now.

CHECK OUT THIS ROBOT DOG!

I just screamed and screamed in my head when I saw that.

I ate preserved duck egg with pickled ginger, rice flour donuts. kai lan and chinese soy milk and grass jelly for the first time! And for the duck egg, the last!

But mmmm rice flour doooh-nuts...

Here's the soup I just made.


Chickpea and Leek Soup



From The Naked Chef



Served 6

Ingredients
1 12oz can chickpeas
1 medium potato, peeled and cubed
5 medium leeks
1 tablespoon olive oil
1 tablespoon butter
2 cloves of garlic, finely sliced
salt and freshly ground pepper
3 cups vegetable or sticken chock (uhhhhh okay I totally noticed that I just typed sticken chock but its so funny Im leaving it.)
Parmesan cheese

Rince the soaked chickpeas, cover with water, cand cook with the potato until tender. Remove the outer skin of the leeks, sliced lengthways from the root up. Wash carefully and slice finely.

Warm a thick-bottomed (teehee) pan, and add the oil and the butter. Add the leeks and garlic to the pan and cook gently with a good pinch of salt until tender. Add the drained chickpeas and potato and cook for 1 minute. Add about two-thirds of the stock and simmer 15 minutes.

Now decide if you want to puree the soup in some sort of processor, or leave it chunky, or do what I do which is puree half and leave the other half whole-- this gives a lovely smooth comforting feel but also keeps a bit of texture. Now add enough of the remaining stock to achieve the consistency you like. Check for seasoning, and add parmesan to taste to round off the flavours.