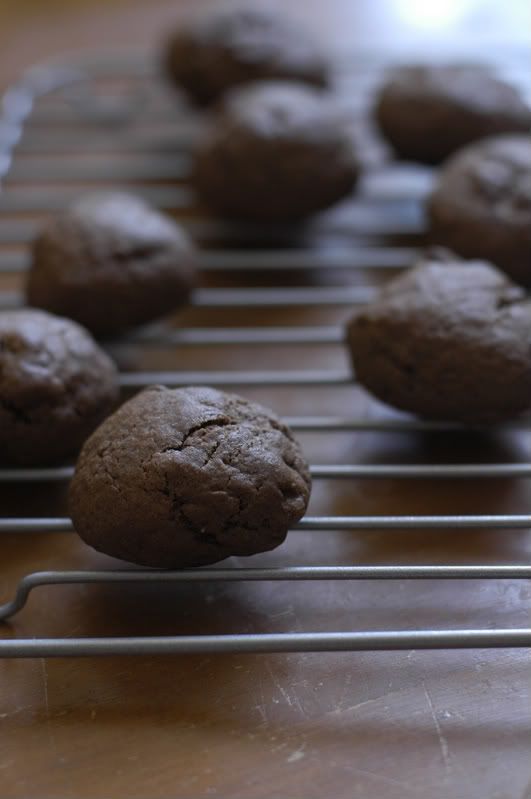 OKAY! We've found a champion.

I REALLY wanted to accompany this post with a picture but... there are none left. Thats right Cory and I ate 2 dozen cookies overnight. Don't judge, you bastards, you don't even know what this was like. Anyway, here's the recipe, I might do some slight adjustments next time, but they were perfect. Crunchy outside, soft and fluffy inside, melting hunks of milk chocolate, nice little espresso flavoury kick, perfect amount of sweetness. Mmmm.. I used my favourite chocolate chip recipe, (Thanks, Aunt Chris!) and added a whole whack of cocoa powder, espresso and upped the brown sugar ratio. Try these, they're wicked.

Double Chocolate Chip Espresso Cookies

1/2 pound butter (2 squares of margarine)
1 cup brown sugar
1/2 cup white sugar
1 tsp vanilla
2 eggs
1/4 cup espresso (I used an actual espresso shot,
but you could use instant espresso powder if you have that for some reason)

3 cups flour
1/2 tsp salt
1 tsp baking soda
1 package milk chocolate chips (2 cups)
5-6 tbsp good quality cocoa powder


Preheat oven to 350 degrees.

Sift together dry ingredients in a bowl.

Cream the butter and sugar together for atleast 5 minutes until it get gets light, cream and almost fluffy looking, about 5-8 minutes. Add dry ingredients. Roll into walnut sized balls and pat flat if you want to, freak. I like mine chubby.

Bake 10 minutes, 15 minutes if cookies are large.