Wachooouoooo I wish I could sneeze a rainbow cloud friend out of my unicorn penis too. How could anything be happier. Anyway. Instead of my homework Im going to listen to THIS MUSIC

Why Can't I Touch It? - The Buzzcocks
Hometown Unicorn - Super Furry Animals
Lily and Parrots - Sun Kil Moon
Think Locally, Fuck Globally - Gogol Bordello
Moustache TV - Atom And His Package

Heaven Knows I'm Miserable Now - The Smiths
And make THIS recipe! HA! Take that, succeeding in life!
Chocolate and Lemon Madeleines
from Chocolate Desserts by Pierre Herme/Dorie Greenspan
1/2 cup + 1 tbsp (70 g) all-purpose flour
3 1/2 tbsp. Dutch-processed cocoa powder, preferably Valrhona
1/2 tsp. double-acting baking powder
1/3 cup + 2 tbsp (90 g) sugar
pinch of salt
grated zest of 1/4 lemon
2 large eggs - at room temperature
6 1/2 tbsp (100 g) unsalted butter - at room temperature

Sift together flour, cocoa powder and baking powder. Set aside. Put the sugar, salt and lemon zest into a bowl and rub everything together with your fingertips until the sugar is moist, grainy and very aromatic.
Using a whisk beat the eggs into the lemon-sugar until the mixture is blended. Squish the butter through your fingers to create what is called a pomade and add it into the bowl. Still whisking, beat in the butter just to get it evenly distributed. Gently whisk in the sifted flour, stirring only until the flour is incorporated and the mixture is smooth. Press a piece of plastic wrap against the surface of the batter and chill it overnight before baking.
When you are ready to bake the cookies, center a rack in the oven and preheat the oven to 425F (220C). Butter a 12-mold madeleine pan, than dust the molds with flour, tapping out the excess.
Divide the batter evenly among the madeleine molds. Place the pan in the oven, insert wooden spoon in the door to keep it slightly ajar, and immediately turn the oven temperature down to 350F (180C). Bake the cookies for 13 to 15 minutes, or until they are domed and spring back when pressed lightly. Unmold the cookies onto a work surface than transfer them to a rack to cool to room temperature.
Keeping:
Madeleines can be kept at room temperature in an airtight tin for about 2 days or frozen for up to 2 weeks.
Pierre Herme tip:
An overnight rest in the refrigerator is what gives these madeleines their characteristic bump in the center. If you're in a hurry, chill them for an hour - you won't get as pronounced a bump, but cookies will bake better for the chill.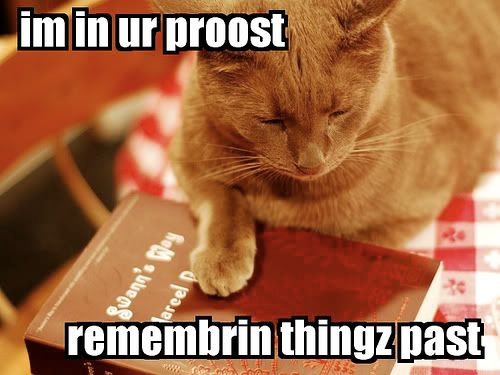 Sweet Christ there is one of those Lolcats things for everything, even vague Proustian references.
In Other News: Fuck fuck fuck fuck fuck fuck fuck.